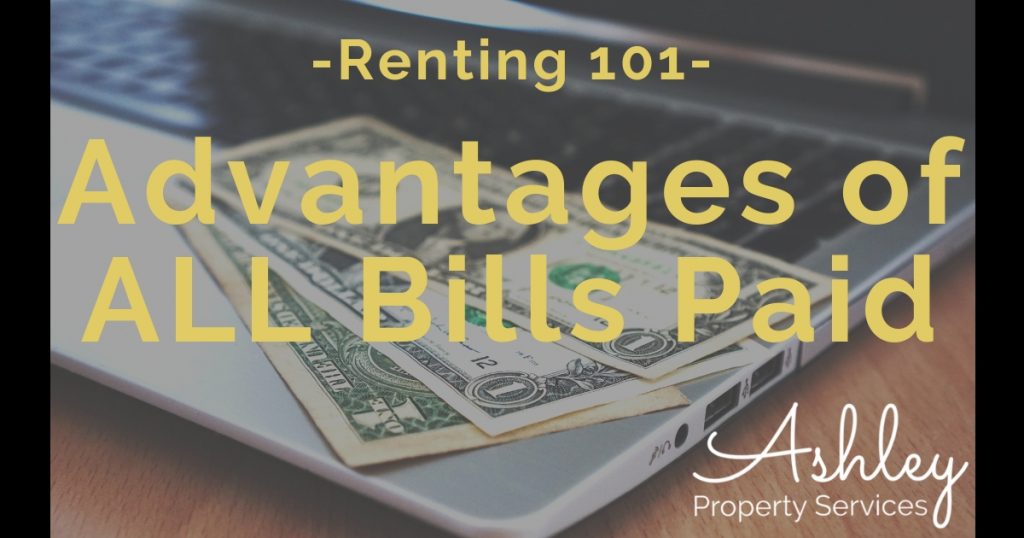 There are many factors to take into account when looking for your next place to rent. Price, location, your monthly budget, and property features are important things but many tenants do not realize the advantages of All or Some bills paid.
Below we will discuss the advantages of All Bills Paid when searching for your perfect rental property. This is slightly different than "All BASIC Bills Paid." At Ashley Property Services LLC, we use the term All Basic Bills Paid to reference all the utilities that are essential for tenancy, like electric, gas, water, etc. This does not include bills like cable or internet because theses bills are not essential of living in the residence. All bills paid mean just that, all your bills paid and usually includes internet and/or cable. No matter the term there a definitely advantages when the property owner pays some, if not all the bills.
Decrease Move in Costs
When the property owner pays your bills, this means no deposits to get your utilities turn on. The move in costs are what often get tenants the most stressed. Between first months rent, security deposits, moving costs in general, AND deposits for utilities company it gets to be a lot! This is a great feature and helps eliminate some of those unneeded costs.
This is especially important when you have either bad credit or do not have enough credit history. Many utility companies use your credit to determine your deposits. This puts extra strain on most people who are trying to live on a budget
One monthly amount
There is no guess what your monthly living expenses will be and allows the tenant to budget much easier. Living in Northwest Oklahoma, we know that we get some extreme weather between heat & cold. This puts a strain on most bills as we see the furnaces & AC units work extra hard to maintain the interior temperature. If you are paying the bills, you may have a higher than normal electric or gas bill during the winter & summer months. When the property owners pays, these kind of charges do not effect you. This means your budget does not control the themostat, instead you let your level of comfort decide.
Eliminate Some Roommate Issues
While we know that there will some roommate issues time to time, by taking the finances out of the equation it helps eliminate some roommate drama if you will. When multiple tenants rent a house each roommate usually takes over the responsibility of putting a utility in their name. They then receive the bill, and have to gather money from roommates and pay the bill. This not only puts stress on your relationship with your roommate, but it adds an extra step that is not necessary. These issues are especially apparent when there is a change in roommates.
Less Time Spent on Bills
When moving in, you have enough to worry about without having to deal with the stress and time consuming activities associated with turning on the utilities. They are already on when you move in. This is also true with the move out process.
As mention above, you only are responsible for paying once. If you were to be responsible for utilities, you would have electric, water, trash, gas, internet, lawncare, cable, etc to pay yourself. Usually all of these bills are received at different times throughout the month, and all have different due dates. That is a lot of thought and effort put into bills throughout the month, instead of paying one time at the beginning of the month.
Contact Ashley Property Services LLC to find a property with All or Some Bills paid.